At Lime Venue Portfolio, we're no strangers to booking large-scale events. Within our portfolio of 80+ venues, we have super-brands from ExCeL London to the Scottish Event Campus and The O2 Arena, all of whom create stunning events, conferences, and exhibitions of every scale.
However, we like to use our own industry events to meet our customers, our clients and stakeholders, and anyone else who wants to hear about Lime Venue Portfolio and what we're up to. One of these exhibitions is The Meetings Show, one of the biggest get-togethers of the conference and events industry, bringing a wide range of eventprofs together at ExCeL London.
Any visitor to the show would have noticed us on our beautiful stand with our infamous purple t-shirts. We always look to make a splash at The Meetings Show, launching new products, services and often, our most recent research projects and findings.
This year was no exception, as we looked to launch our Meeting of the Future initiative and further discuss the trending topic of Legacy within the event community. We were also continuing to fly the flag for more eco-friendly food at events, and supported Paul Harvey, Editor of industry mag, Meetings & Incentive Travel, in his efforts to go vegan at the show.
This is something we know a bit about, and our own Jo Austin interviewed him on TMSTV to see how he was getting on and offer some supportive advice!
In the meantime, we wanted to really challenge ourselves when exhibiting this year, to continue to push the boundaries around event sustainability, and set ourselves the challenge of being fully transparent with our carbon emissions at The Meetings Show 2023.
Some would call this activity specifically 'on brand' for Lime Venue Portfolio, many of the aforementioned reports we have launched look specifically about sustainability. We have become a trend setter, market leader and thought leadership commentator on the subject and feel the pressure to walk the walk as well as talk the talk. This was an obvious step for us.
How did we reduce our impact at an exhibition?
Event professionals will understand the need for good risk assessments. Well, with reducing impacts it's a similar process. We needed to go through every aspect of our project organisation and dissect what it meant from an emission perspective. They mostly fitted into the following profiles.
Travel – of the 26 staff journeys carried out across the two days of The Meetings Show and one day of pre-event set-up, 23% were carried out using a fully electric car, and the remaining 77% taken by public transport (i.e. national rail)
Stand Production – of the (approximate) 859 kilograms of materials and items used to build/dress our stand at The Meetings Show, 830kg (96.6%) were reclaimed or reused materials, which were then either donated or reused in future projects. From the remaining 3.4%, 3.2% was hired stock (which will have had continued use post-event) and only 0.2% was made from virgin materials (metal fixings for our back wall) which then went into waste or recycling.
Event Catering – across our two-day presence at the show, we hosted a breakfast sustainability session with BCD & ExCeL London; a lunch roundtable on the Meeting of the Future; a joined social event with Delegate Wranglers & ExCeL; and a breakfast roundtable on the legacy of events. Across these events, we catered for 40 covers, and served 310 canapés. Most importantly, all of this food was 100% plant-based.
On stand exhibiting – we provided all our stand staff with reusable water bottles and coffee cups, to be used whilst exhibiting at the show. This meant that we eliminated the use of any single-use bottles or coffee cups.
Measuring our Carbon Emissions for our exhibition stand:
Just analysing these effects pre, during and after the event created immediate behaviour change among our team. However, so that we can set a benchmark, and so that we can then commit to improving our carbon impact next time, there was a huge importance put onto tracking the results.
To do this, we partnered with TRACE by isla, using their carbon measurement tool to collect the relevant data to measure our impact across The Meetings Show. With the help of ExCeL London and eventologists (who produced and built our stand), we were able to collect data in the following categories:
Energy – accounted for 20.7% of our Carbon Footprint. Due to ExCeL London's 100% renewable tariff, carbon offsetting their gas supply using UN credits, and a lack of temporary energy/power used during the show, none of the electricity and gas usage contributed towards our footprint. However, TRACE calculated that based on averages, 0.15 tCO2e were emitted by staff staying at a hotel (using a total of 10 rooms) with no certified renewable energy.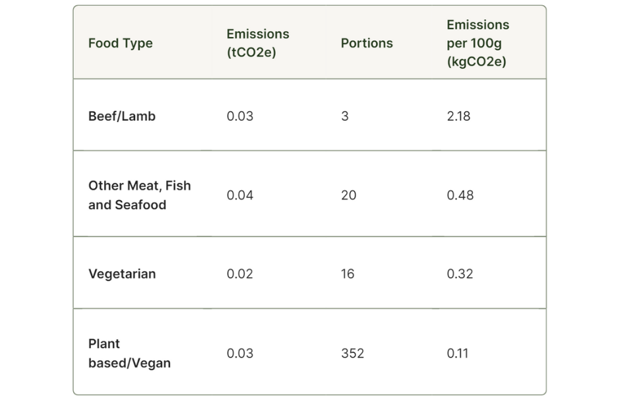 Catering – accounted for 14.7% of our Carbon Footprint, with total emissions of 0.11 tCO2e. See below for a breakdown of our catering emissions, which includes staff catering (breakfast and lunch during the show, as well as dinner if staying overnight) and our covers for our roundtables, BCD event & Delegate Wranglers social event.
Transport – accounted for 62.4% of our overall emissions, with 0.45 tCO2e calculated. Of this amount, 40.6% was from public transport (24 journeys); 10.34% was from electric car journeys (8 in total); and 49.06% was from contractor trucking (4 journeys).
Stand Production – only contributed 1.8% of our carbon emissions. 0.01 tCO2e was emitted due to using metal fittings in our back wall support. Meaning that only 0.2% of our production materials had any carbon impact.
Our overall Carbon Footprint added up to 0.73 tCO2e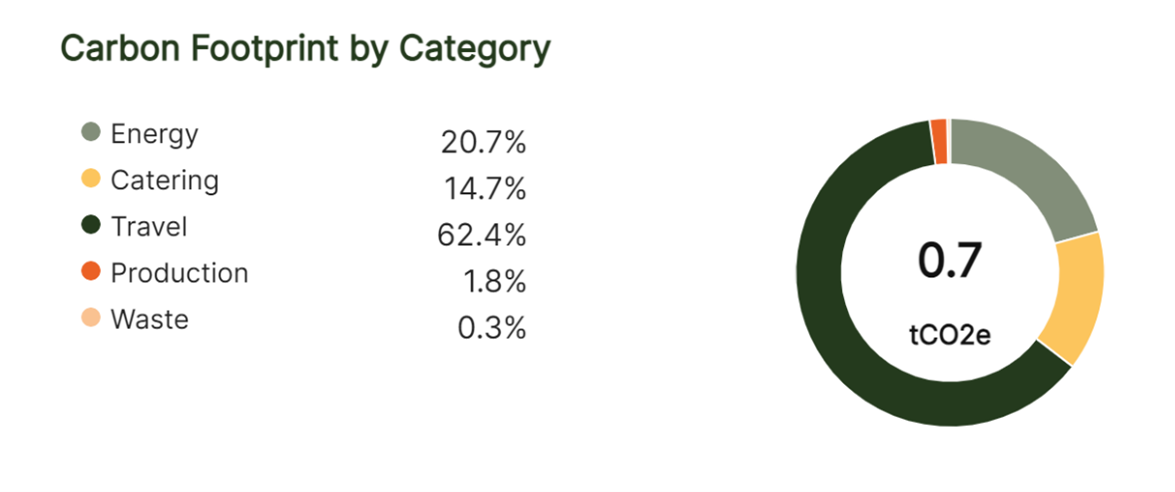 Learnings for reducing carbon emissions at future exhibitions
So, what did we learn? This is an important part of the journey and why you're reading this article. The reality is that it's no point just us knowing it, we have to share the information with our peers and see if we can in turn learn from them.
From this project, there are four key areas:
100% plant-based staff meals – we only provided plant-based meals and canapés during our events at the show. However, we could improve further by requesting that our stand staff only eat plant-based meals whilst exhibiting. Only 7.3% of staff meals included beef, with 44% being vegan or vegetarian.
Choosing a hotel with certifiable renewable energy – 20.7% of our emissions were caused by staying at a hotel with no certifiable renewable energy. This would be a significant reduction if our selection was stricter.
Request electric vehicles to be used by contractors – 22 tCO2e was emitted from a diesel van being used to transport our production materials.
Continue to use recyclable or repurposed materials – our stand waste was significantly reduced by designing our stand with sustainability in mind. Not only did it look good, but it also reduced our impact.
Overall, by challenging ourselves to fully measure our impact across this trade show, we're able to learn from and improve on our impact in the future. At the next Meetings Show, we're able to have a measurable goal in place: reduce the carbon impact of our attendance to be lower than 0.73 tCO2e.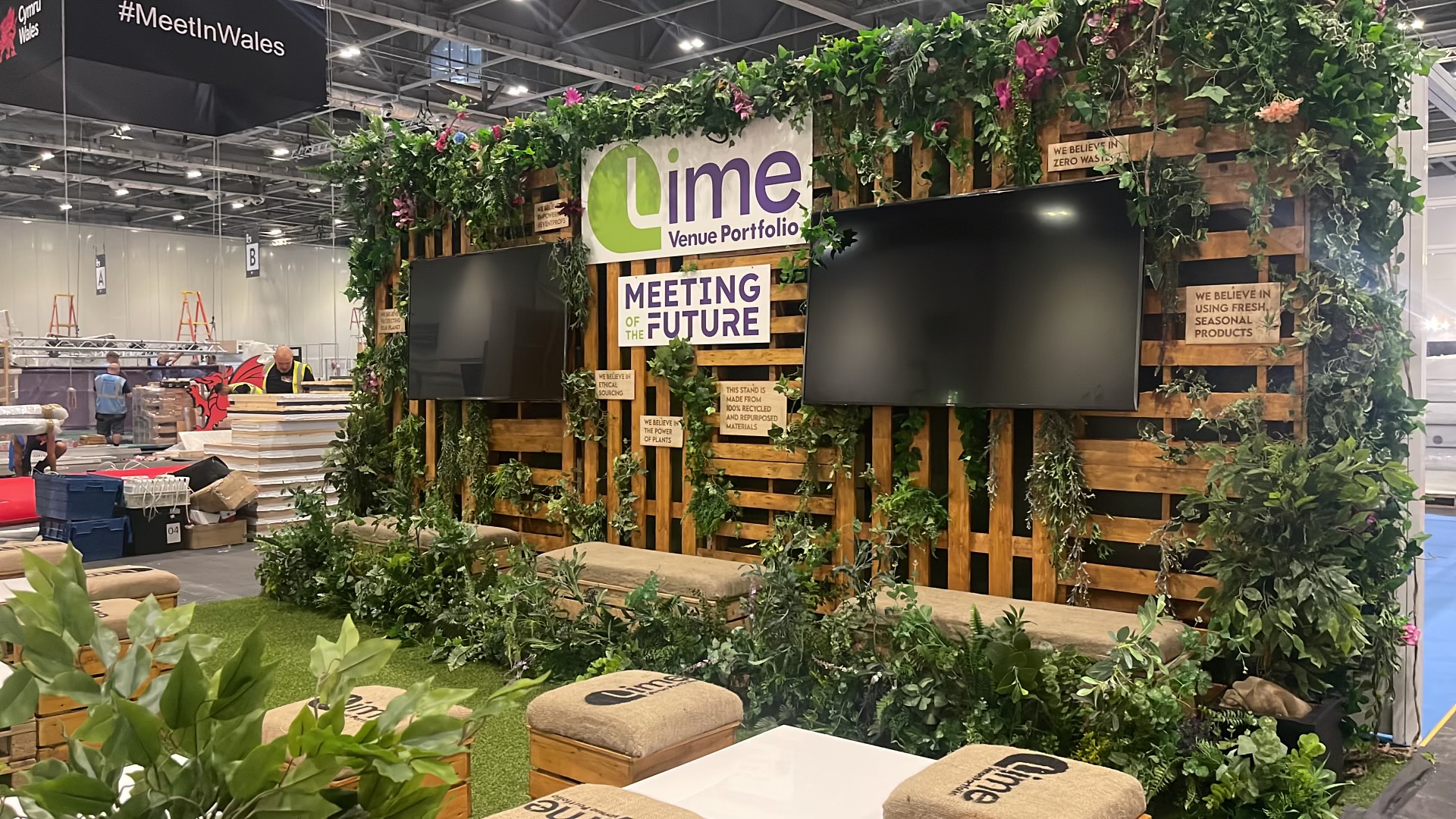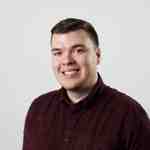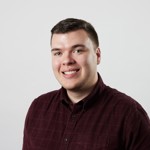 Daniel Payne
Marketing Executive
Daniel is responsible for running the LVP social media channels (Facebook, Instagram, LinkedIn & Twitter), the email newsletter, stand presence at The Meetings Show (and other exhibitions) and recently worked on carbon measuring our presence at the 2023 Meetings Show.
Ask Daniel about
Marketing
Sustainability
B2B Campaigns
Connect with Daniel