For many people, their wedding is the most planned-out day of their life. Often involving not a small amount of money (the industry adds £10bn to the UK economy each year), the big day involves liaising with suppliers, guests, and of course the wedding venue to ensure everything runs smoothly.
Weddings are also one of the best occasions for getting all of your loved ones together in one place. There'll be outpourings of love and laughter, interspersed with lots of eating, drinking and dancing.
Yet for those unlucky people who had their big day booked in for 2020, they've been faced with a problem that not even the most experienced wedding planner could have predicted: the coronavirus pandemic.
According to Bridebook, 64% of 2020 weddings have been directly impacted so far, with thousands being postponed, cancelled outright or taking place in vastly different circumstances than were originally planned. As the events industry continues to take the hit, it's clear that normal service is still out of our reach.
So what does the new normal look like for weddings?
What are the current rules around weddings and coronavirus?
At the time of writing, the UK law states that a maximum of six people from different households are allowed to meet outside, providing they practice social distancing. However, they are not allowed to meet inside a venue.
This means that you can technically still get married if the ceremony is outside, as the legal minimum number of participants is five (the couple, the officiant and two witnesses). In England and Wales, the wedding must take place under a licensed structure such as a gazebo or pavilion, but in Scotland and Northern Ireland it can be absolutely anywhere outside. 10 people are now allowed to attend weddings outside in Northern Ireland.
Places of worship are expected to reopen on 4th July, but it remains to be seen if larger groups will be able to meet then. The same goes for when other wedding venues, such as halls and hotels, are given the go-ahead to reopen.
It's this uncertainty that has led many couples to switch their wedding date to later this year or even to 2021. The idea of the big white wedding with a hundred guests is still a long way away.
How will coronavirus shape the future of weddings?
Although the wedding industry has been hit hard, there's no doubt that it will be one of the first to bounce back. There's no shortage of couples wanting to get married, even if their big day no longer looks how they'd imagined.
Going forward, brides and grooms may have to be more flexible with their wedding planning, and if they want their nuptials to take place within the next year, they may have to consider incorporating some new changes.
Here's a list we've put together of some of the changes we might see in the wedding industry over the coming months.
Outdoor wedding venues
Outdoor weddings are by no means a new thing, but we're predicting a sharp rise in the number of couples looking to tie the knot in the open air. Holding your big day in the great outdoors allows for better social distancing and a decreased likelihood in coronavirus transmission (romantic, huh?).
An outside wedding also allows you to flex your creative muscles in designing the space and bringing your theme to life. Here at Lime Venue Portfolio we've got an amazing selection of venues with outdoor space to spark your wedding inspiration.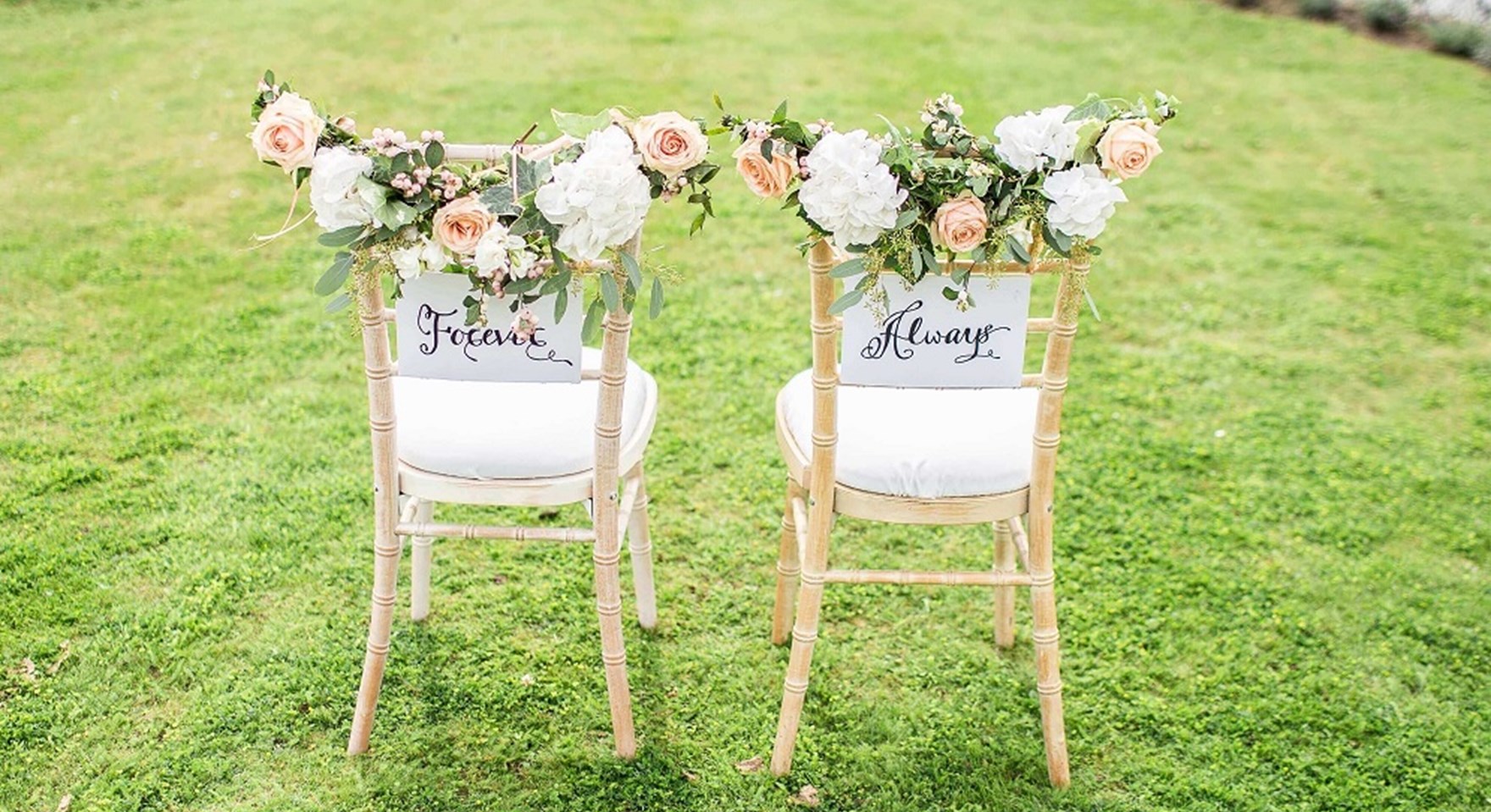 Zoom-able weddings
Yes, we know, you've heard enough about Zoom lately to last a lifetime. But the booming tech platform isn't just useful for your daily team call. We've already seen many stories about friends and families being able to join the happy couple's nuptials through the magic of video conferencing.
As social distancing, travel restrictions and group size limits are likely to continue for a few months yet, we expect to see an uptick in the amount of live streamed weddings that allow all guests to attend the big day virtually. Although it will by no means be the same as having your loved ones there in person, a Zoom wedding could serve as the initial ceremony, to be followed by a large celebration when lockdowns have been eased.
Step away from summer
Due to many couples delaying their nuptials to 2021 thanks to the pandemic, next year looks to be one of the busiest on record for the wedding industry. The preferred Saturday-in- summer slot will be booked up rapidly, with many couples forced to consider different times and dates than they were hoping for.
Many wedding venues may decide to open mid-week, and to extend their marriage season into winter to make up for lost revenue in 2020. Although getting married in the later months of the year may not be top of your wish list, it opens up new possibilities for theming, food, wedding venues and even the dress. Think creatively and make the most of your new date with a seasonal celebration.
Mini-monies and sequel weddings
Here at LVP we love a wedding trend, and the mini-mony seems like one that's likely to outlast the current circumstances. The 'mini ceremony' involves up to 10 of your closest loved ones, and allows you to still get married but on a smaller scale - for example, if you wanted to honour your original wedding date.
The mini-mony can then be followed by a 'sequel wedding' down the line, maybe on your anniversary, where you have the big day you'd originally planned for. Splitting your wedding into these two occasions means you get to celebrate twice and enjoy the best of both worlds - an intimate ceremony and the big party!
Virtual planning
In the coming months, it won't just be the wedding day itself that's affected by coronavirus, it will be the whole wedding planning process. Before this point, things like venue tours, menu tastings, meetings with the officiant and wedding gown or suit fittings were almost always done in person. Now, suppliers are having to think of ways to get around the need for meeting face to face.
Thankfully, the meteoric rise of video conferencing platforms can solve some of these problems, as well as delivered-to-your-door services. Couples can now try on their wedding outfits, sample their cake and explore potential wedding venues within their own homes.
New hygiene standards
The high level of transmission of COVID-19 has led to a heightened awareness of the need for cleanliness when groups of people gather. Suppliers, venues and the couple themselves will need to make new hygiene considerations in order to limit the spread of germs at events like weddings.
We know, this isn't a fun part of wedding planning, but it's a necessary step to make sure you and your guests stay healthy. It doesn't have to be a big deal, either - having small sanitising stations dotted around means that guests can quickly clean their hands as they pass by. Digital gifting will also likely become the norm to limit transmission - couples may ask for a donation to their honeymoon fund, or have their gifts delivered directly to their house.
Social distancing continues
We're likely to continue seeing safe social distancing being practiced for events in the coming months. We predict that sit-down meals will be prioritised over buffets or sharing platters, and that long tables will be used to ensure there's plenty of space between diners. Catering and venue staff may also have to wear masks and gloves.
Another thing to consider is the increased likelihood of people breaking distancing rules after they've had a few glasses of celebratory Champagne. Some voices in the industry are predicting a rise in low or even no-alcohol weddings - we'll let you decide your opinions on that…
To sum up
The coronavirus pandemic has dealt a blow to the wedding industry in 2020, but it has also forced couples to get more creative with planning for their big day. Whether it's midwinter nuptials, wedding albums filled with Zoom screenshots or a white lace bridal mask, the weddings shaped by COVID-19 will be ones to remember.
The pandemic has also reminded many couples of what really matters on their big day. Especially in a time when personal and business finances are taking a big hit, brides and grooms across the country will be singing the praises of intimacy, simplicity and what's really important: being with those we love.
From castles to zoos, racecourses to hotels, whatever unique wedding venue you're looking for, Lime Venue Portfolio have it. Take a look at the full list of our venues.