At Lime Venue Portfolio we're looking at space, a lot. Not the night sky, but the space we have within our venues, and how it can be best used for the meetings and events we're hosting this summer, and into the autumn. We're also considering outdoor space a lot. The very nature of our portfolio means that almost every venue we have has outdoor space capacity or the installation of marquees to create added space for the events they host. As we execute our health, hygiene and safety procedures this additional space is becoming more and more important. Social distancing reduces room capacities and we need to find space from somewhere.
The use of outdoor space has become a really useful tool for event organisers. In the summer, it has historically been used for breaks, and when the weather holds, a place to eat and catch up with friends. Now, the idea of using the great outdoors for the main parts of the events have come into play.
We caught up with Madeline Johnson, freelance event producer and director, to talk about how to get the best out of outdoor space. Here are our top tips to bring the inside out.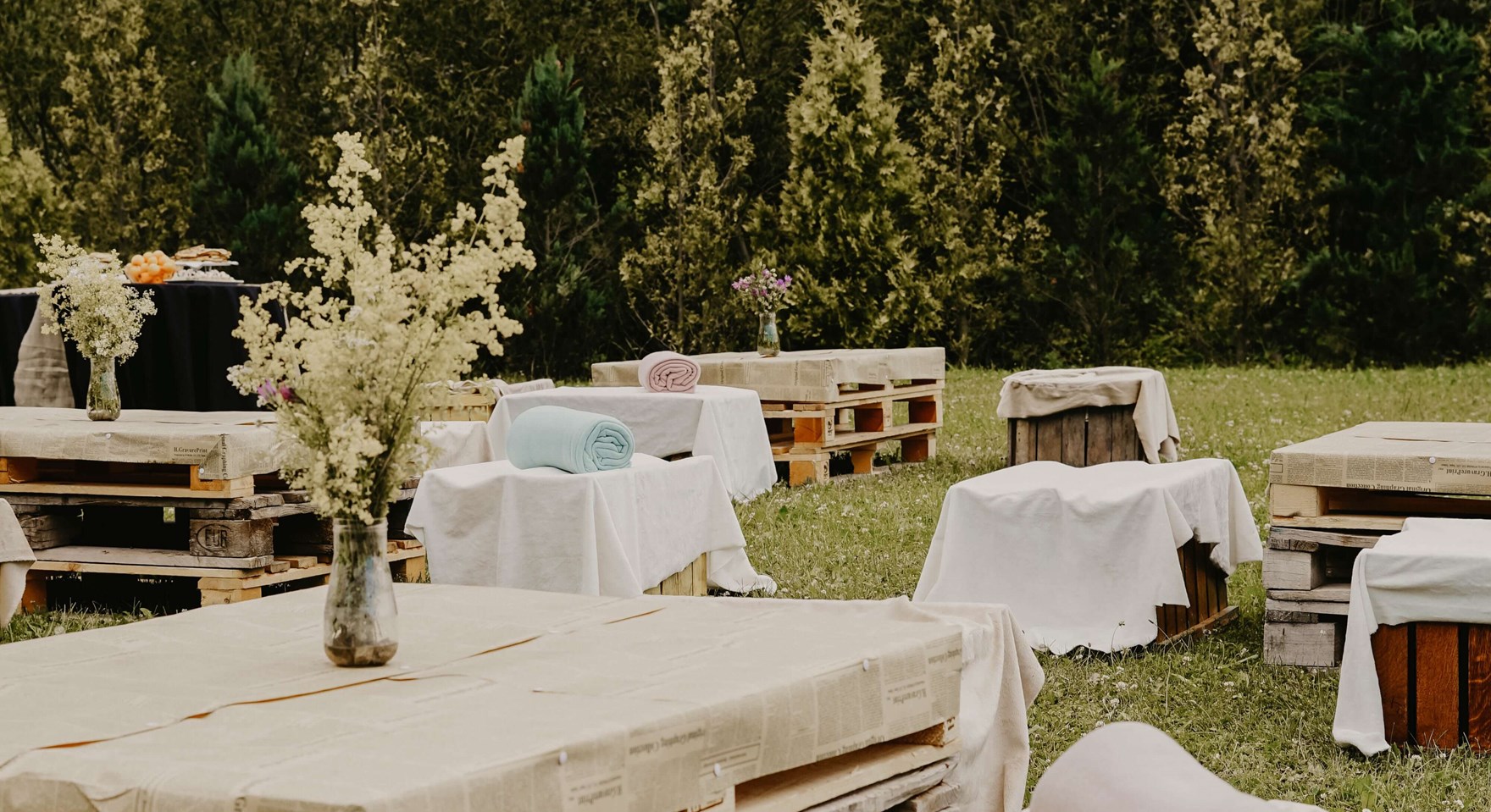 1. Rotate your delegate teams.
For social distancing reasons, we're Increasingly splitting teams up into their own bubbles. So why not rotate them throughout the day, not just at breaks, into the great outdoors. Not every session of a meeting needs to be inside, so pick the ones that can be taken outside.
2. Marquees are a perfect hybrid between outdoors and indoors.
They still give the impression of a slightly more relaxed experience outside, but also allow for furniture and room layouts that complement the meeting. Venues are installing marquee space for this reason, so take a look at the options out there.
3. Creative brainstorms are a natural fit with an outdoor space.
The nature of these meetings means that people can sit in places less conventional and unleash their creativity. For those that want to capture the ideas, it's easy for venues to put a flip chart on a field, in a wood or even a maze!
4. Enjoy a break from tech.
Outdoors has the added benefit of being away from technology so try and resist taking it with you. Encourage delegates to leave phones and laptops in the rooms, and use the outdoors as a way of truly escaping.
5. Embrace the weather through food.
We live in an unpredictable country, but in the summer and early autumn, there are lots of opportunities to really enjoy the sun. If you can eat outside do, it's a lovely experience and you can work with the catering team to create picnics, BBQs and all sorts of other summer food that allows for a more relaxed break.
6. Add on a team-building element to your event.
Team building naturally lends itself to outdoor space, so think about taking advantage of having your delegates together. At LVP you have options from forests and grassy spaces to football, rugby or cricket fields.
7. It's not just for summer!
We all know how unpredictable the UK weather can be, but this works both ways. In summer we get torrential rain but, in the spring, autumn and winter we get clear and beautiful days. So, don't just keep this as a summer activity, wrapping up warm and sitting outside on a crisp winter day is actually really special; at the very least, your guests will appreciate the warm again when they go back!
View more of our Summer Party Venues here - where we have a range of locations with outdoor space.