An interview with James Buckley, Director of Culinary, Levy UK + Ireland
Chefs have one of the strongest voices in the food chain in this moment, if not the strongest. In this interview we speak to Chef James Buckley, who we affectionately refer to as the 'Circular Chef', who has long been a champion for cultivating a circular food economy.
Since the start of his career James has looked at different ways of doing things; to save guests money, make the most out of ingredients and be as efficient in the kitchen as possible.
James' natural inclination is to treat produce with a heightened degree of reverence. As he explains, "A lot of work has gone into creating these ingredients, be it rearing livestock or planting, ploughing, growing, watering and picking vegetables. It always felt strange to me that some chefs would only take the bit they wanted and throw the rest away. I wanted to use everything, in as many different ways as possible."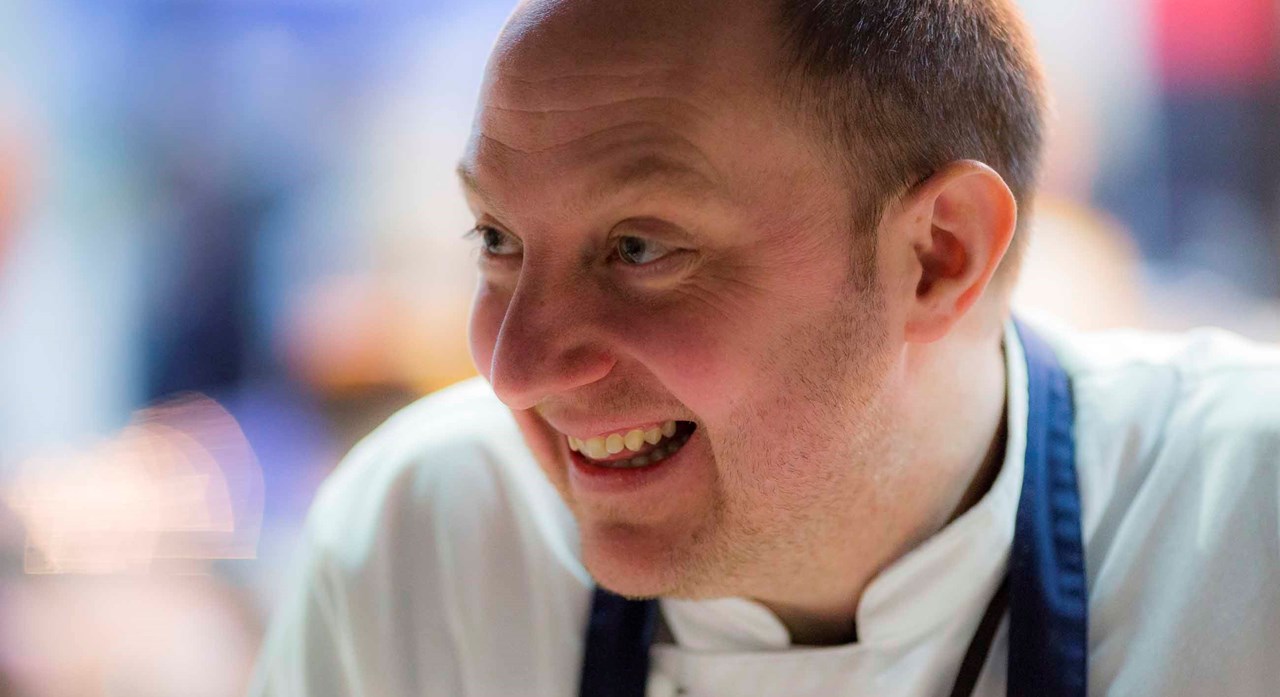 It was this approach that has made James one of the longest serving 'circular' chefs around, and now one of the leading voices in food waste, sourcing and some new innovations that take 'circular' economies in kitchens into what can only be described as a 2.0 level.
James is now Head of Culinary at Levy UK + I, the catering partner to Lime Venue Portfolio, and the business behind all the food delegates will be eating across the group, including ExCeL London, the Scottish Event Campus, Watford Football Club and many more. He is also one of the crucial links in the chain that is changing the way food is developed for meetings and events in the future.
James explains, "We've been seeing a change in delegate demand for ethical food for some time, and we've looked to not just stay ahead of the trend but lead and develop it. A few years ago, it was all about adopting a plant-first strategy, now it's about how we source food and how we can provide dishes that are sustainable as well as tasty."
So, what does this look like when James sits down with the event organiser for the very first time? "We really want them to put the responsibility for creating sustainable food in our hands. We talk to them about produce and ingredients that have higher environmental costs like Beef. We also talk about the CO2 liabilities of bringing in out of season goods, and the nutritional and taste benefits of choosing locally sourced fruit and vegetables."
"It means, from the outset, we're restricting ourselves to sustainable food. We can then start building an interesting and engaging menu within these parameters."
As the menus are developed, James and his team track these reduced environmental costs and share them with the event organiser so that they can demonstrate the positive impacts of their events.
"Whatever we're cooking for your meeting or event our approach is root-to-stem, nose-to-tail."
"Many of our clients arrive with sustainability high on the agenda and they want their events programme to be part of their businesses sustainability goals. They'll look at plastics, waste and lots of other things. We'll tick these boxes, but then take it up a notch by talking about menu design and sourcing. That's where serious good can be done."
A good example of this is the work being done with mushrooms. As the group looks to create more fungi-heavy menus, James has developed ways of reducing the carbon output of his menus by replacing beef with mushrooms. Again, he explains; "We've developed a 50/50 burger where we've reduced the beef and replaced it with mushrooms so it's half of each. It tastes great, retains the moisture, and is barely noticeable for the meat purists. However, the best thing about it is the massive impact it can have on our businesses' CO2 output. Basically, if we get adoption of our 50-50 burger across our venues, it will hit all the businesses Net Zero commitment by 2030 on its own!*. It's a real game changer for us."
These are major breakthroughs and indicate the amount of innovation that is happening throughout the group. These developments include new dishes and ingredients that reduce the environmental impact of events and pass these savings onto the organiser and their business. However, the 'waste not, want not' ethic is still very much ingrained in James' psyche and for him, every ingredient, no matter how much environmental impact it has, still needs to be used to its maximum.
"We try not to throw anything away; we want to use vegetable peels for stocks, we can use cuttings of meats for confits, we can create pickles and preserves which keep for months. We then add these new dishes to the menus for either the same event and client, or for other events in the future."
So how does this work practically, kitchens are notoriously busy, high-pressured environments, surely waste reduction takes time and effort? "One of the main innovations we've bought into the kitchen is an extra hour at the end of every day for post-prep," explains James. "All kitchens have an hour at the beginning to get themselves ready, we now dedicate an hour at the end to look at what is still in the fridge, and how can we reuse it to make sure we get the most out of everything we have. It's really important, it takes top level backing, but it makes a big difference."
As far as James is concerned, this has been one long journey, but the ethics remain the same; treat produce with reverence, don't waste anything, be innovative and, if you can, think big to take on big problems.