Events are primed to take advantage of the street food revolution.
At Lime Venue Portfolio, we look at trends. We're keen to understand what is affecting the choices of event organisers, but also the desires of their guests – people. We work closely with our parent company Compass Group, who also crunch the numbers when it comes to food and food trends.
Scrambling this data together, it's no coincidence that street food aficionados KERB have been bought into the Compass Group fold and have become part of the ever-expanding food options available to event organisers through Lime Venues Portfolio. So, to better understand street food, its place in events and to pick these trends apart, we spoke to Alana Buckley, Commercial Director at KERB.
Introducing KERB
First of all, a bit of an introduction to KERB, and Alana fills us in on who they are and what they are all about: "KERB is London's leading street food organisation and we've been at the helm of the street food scene since launching in 2012. We have improved the quality of food served on the streets, legitimised the industry through professionalising its practices, given customers something tasty to sink their teeth into and grown a community of entrepreneurs who are driving real change across the food landscape."
The rise in street food is not new, KERB have been at the heart of it for nearly a decade. However, its integration into the events marketplace is slightly more recent. Many of the more creative event professionals, especially when working in an outside environment, will have looked at using street food setups for corporate events. However, our prediction is that this trend will continue to accelerate for a number of important reasons.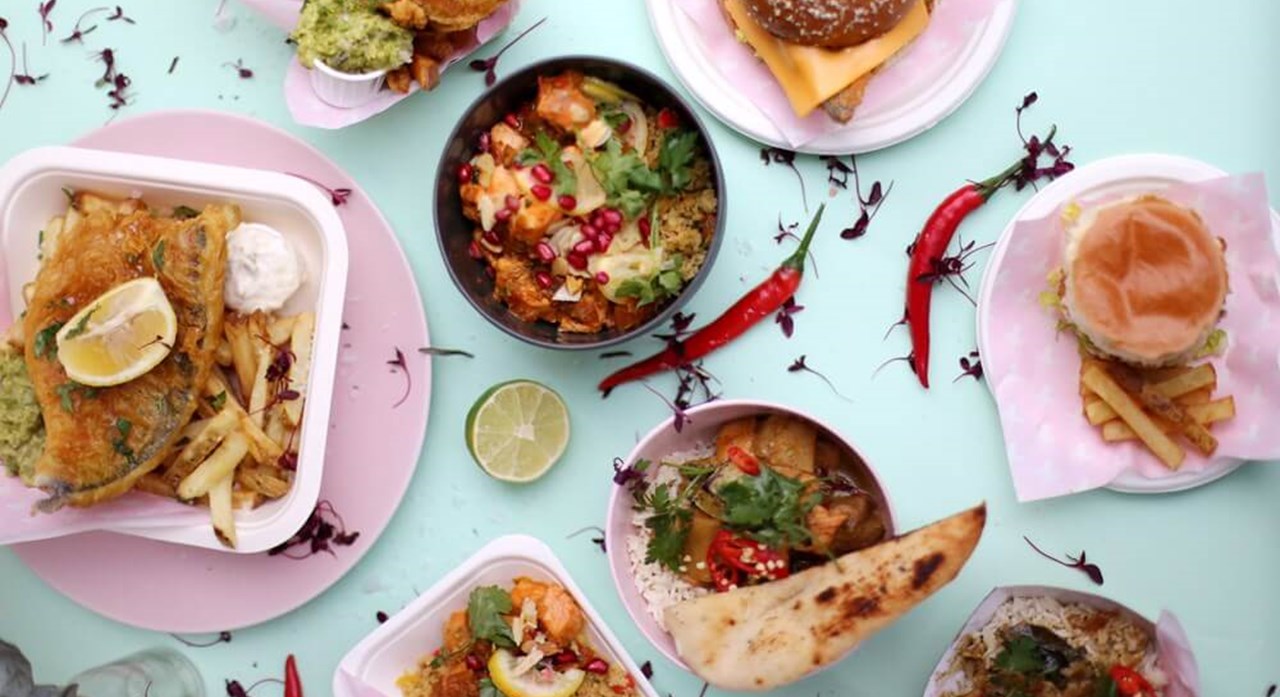 Festivalisation 
The first concerns one of our favourite words of the last few years. For us though Festivalisation isn't just putting grass on the floor of a venue and setting up food stalls. It is about giving modern delegates the chance to self-curate their own events. Offering multiple stages for content and, when it comes to food, offering multiple options there too.
KERB are ideally placed to help event organisers capitalise on this trend, to the delight of their delegates. Alana continues, "Something we discuss a lot at KERB is how food trends have really developed in the UK, especially over the last few years. Event guests, and people in general, are much more knowledgeable about food and discerning in their tastes, not just on a high-end level but across the board. If you can walk down pretty much any high street and get a huge amount of choice, whether that is in terms of coffee, craft beer or food concepts, why not get the same level of diversity, authenticity and most importantly choice, at events?"
Social Distancing
The next trend is one that will hopefully be gone before the end of the year, but for now, needs close attention. Alana explains, "We definitely think that street food will feel like a safe and viable option for organisers post-pandemic. Street food style events lend themselves to social distancing and you are also able to control the amount of interaction between guests and staff due to our style of service."
Essentially, different stalls spread out crowds, it's a great way for food to play a more meaningful part in the management of the event, beyond feeding people. Equally, the team at KERB can design the food outlets to encourage distancing, be it outside or inside, as Alana adds, "We are lucky to have been fully operational throughout the pandemic, so feel we are very well versed in COVID H&S policies and have refined our service to adapt to this 'new normal."
Outside & the Indian Summer
At Lime Venue Portfolio we're predicting an Indian summer for the events industry. Maybe not from a weather point of view, but we do think the summer events season will be much longer as businesses look to cram in their events through even the quieter period of August, and well into September.
Naturally, Alana is fully behind this shift outside, "Street food works incredibly well for outside events and we do think that an emphasis on outdoor entertaining will remain popular as we start to recover from the pandemic. KERB are the experts in bringing mobile catering to corporate and public events and we work with the best traders in the country to bring a carefully curated collection of specialists to each event."
Loving Local
Finally, we're seeing a huge surge in the localisation trend across our businesses as more and more of our customers look to connect with their local communities. Food is a highly emotional way to do this, and the approach has been a massive part of KERB's DNA, as well as their future plans; Alana explains, "Up until recently, KERB has been very focused on London and we are very proud of the representation of London we have created through our traders. We also feel it is very important to represent locality in other aspects of the business, so we are committed to using small, local suppliers on our bars and in terms of our event support services. 
As we look to the future, we will be drawing on our experience of cultivating a community of local traders to expand outside of the capital. We will be using the model we have developed in London to cultivate traders in other areas of the UK, making sure that these traders, and our offer in these areas, is representative and authentic, and that we are also engaging with local producers and suppliers to compliment these local food offers."
Responsible Events
Something that we continue to talk about is that events have become a lot about 'risk' over the last 12 months; safety, hygiene and care are all buzzwords for our clients these days. One of the reasons many of these customers turn to Lime Venue Portfolio businesses is because of their ability to not only reassure customers but take on the risk for them and KERB is no different. Alana concludes "Although KERB looks colourful and fun, behind the scenes our experienced team delivers full support and management services to rival anyone. We've got the passion, the professionalism and all of that flavour. 
It looks like we're in safe hands. But also, that in KERB, we have the right partner at the right time, in the right place.