Lime Venue Portfolio has launched Chapter III of its Beyond Food Report, this time looking at the relationship between food and mental health. The report, which continues its exploration of food within the events industry, is produced in partnership with BCD Meetings & Events and once again includes empirical evidence, expert commentary, and opinion from both within and outside of the world of events.
Within the report is a piece created by MIND, the mental health charity, that breaks down how different food groups can support good mental health practices. Their top five include:
Eat regularly: it keeps your blood sugar levels up, helping prevent irritability and tiredness
Eat more wholegrains: they release energy gradually, stopping the feeling of a rush then a slump as energy levels remain steady
Eat more greens: for folate, zinc and magnesium
Eat more fruit and veg: your five a day contain a rich mix of minerals and vitamins, essential for a healthy mind.
Eat plenty of protein: it contains an amino acid called tryptophan which has been linked with healthy brain function
The report then looks at how these practices can be incorporated into menu design for delegates and also better eating options for pressurised event organisers. The Chapter also has a contribution from Mindy Hanzlik, Senior Solution Designer, BCD Meetings & Events, with some top tips for event organisers looking to design 'food and mood' supportive menus. They include:
Not everyone drinks alcohol – so make sure there are plenty of choices for them too
Group exercise can cause anxiety
Take a tech break
From breathing to meditation
Also, included within the report is a fascinating interview with Andrew Walker, Executive Chef at – Chartwells, Compass Group's education business, who explores the unique relationship between food and mental health.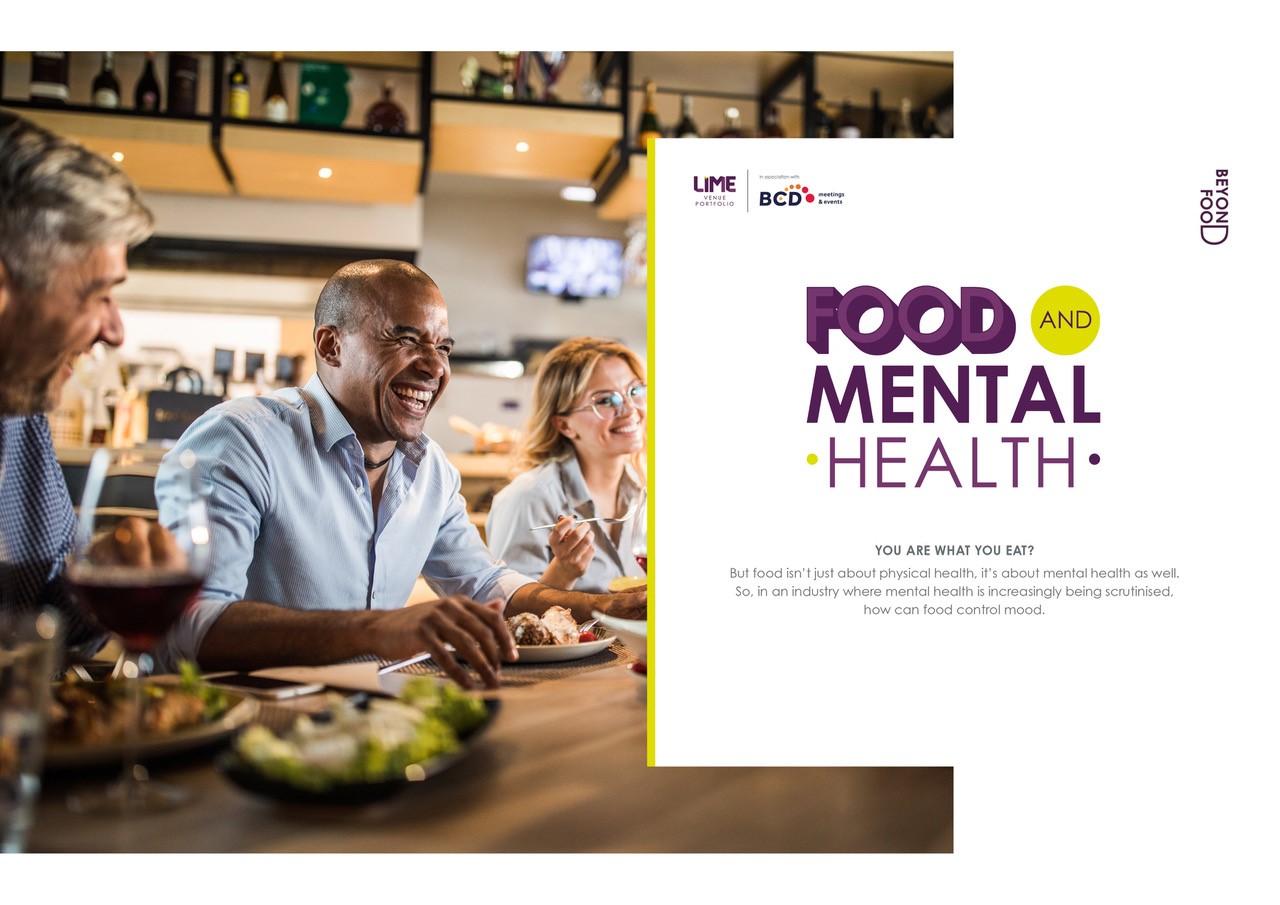 Within the report Andrew comments, "We already know that food has a larger impact than the initial sensory experience; it can play a role in productivity, mood, concentration – all things we need to consider in the events world when we feed large numbers of people."
Chapter III of Beyond Food looks to bring together both the empirical evidence that supports food and mental health, with the 'beyond sensory' benefits that reward the guest by showing them that, just by eating the food, they are doing good; Andrew explains, "We can help delegates feel good about themselves if they know that we care about food wastage and provenance as much as they do. Whether cooking at home or for a large-scale event, the green credentials and principles behind it have to be real. Good food needs to equal good mood."
 "We need to expand the discussion from just food and physical health to food and wellbeing – both physical and mental," adds Jenner Carter, Head of Marketing, Lime Venue Portfolio. "As businesses that take on the responsibility of feeding hundreds of delegates every day, we are in a unique position to advocate the positive effects food can have on mental health. It's a conversation that will continue to take place in the industry and we're excited to be part of it."
Chapter III of Beyond Food follows on from Chapter I which looked at food wastage and #FORO (fear of running out), and Chapter II which looked at the Emergence of the Plant-Based Menu. Chapter IV of the six-part series will shortly turn to 'The Blue Planet Effect'.