Unity Place has become the latest meetings and events venue to join the Lime Venue Portfolio (LVP), the UK's largest collection of iconic venues. Opening September 2023, the purpose built, multi-functional venue represents the latest thinking around multi-purpose spaces created to embrace community, business, and sustainability. It will become an integral part of the group's already excellent event options around greener, more ethical meetings.
Lime Venue Portfolio recently launched 'The Meeting of the Future' campaign, which brought to life a new age of ethically driven events, knocking down barriers to entry, embracing sustainability and accessibility, while also connecting local communities. Unity Place is an embodiment of this ethos, making it one of the group's strongest future-forward options.
Based in the heart of Milton Keynes, Unity Place aims to create a thriving, sustainable, and inclusive future for the city, where community, business, and leisure are brought together. The multi-purpose destination is built and designed with sustainability and a planet-first approach at its forefront, whilst at the same time serves as an innovative and collaborative hub for social enterprises, business ventures, wellness amenities, local eateries, and meetings and events facilities.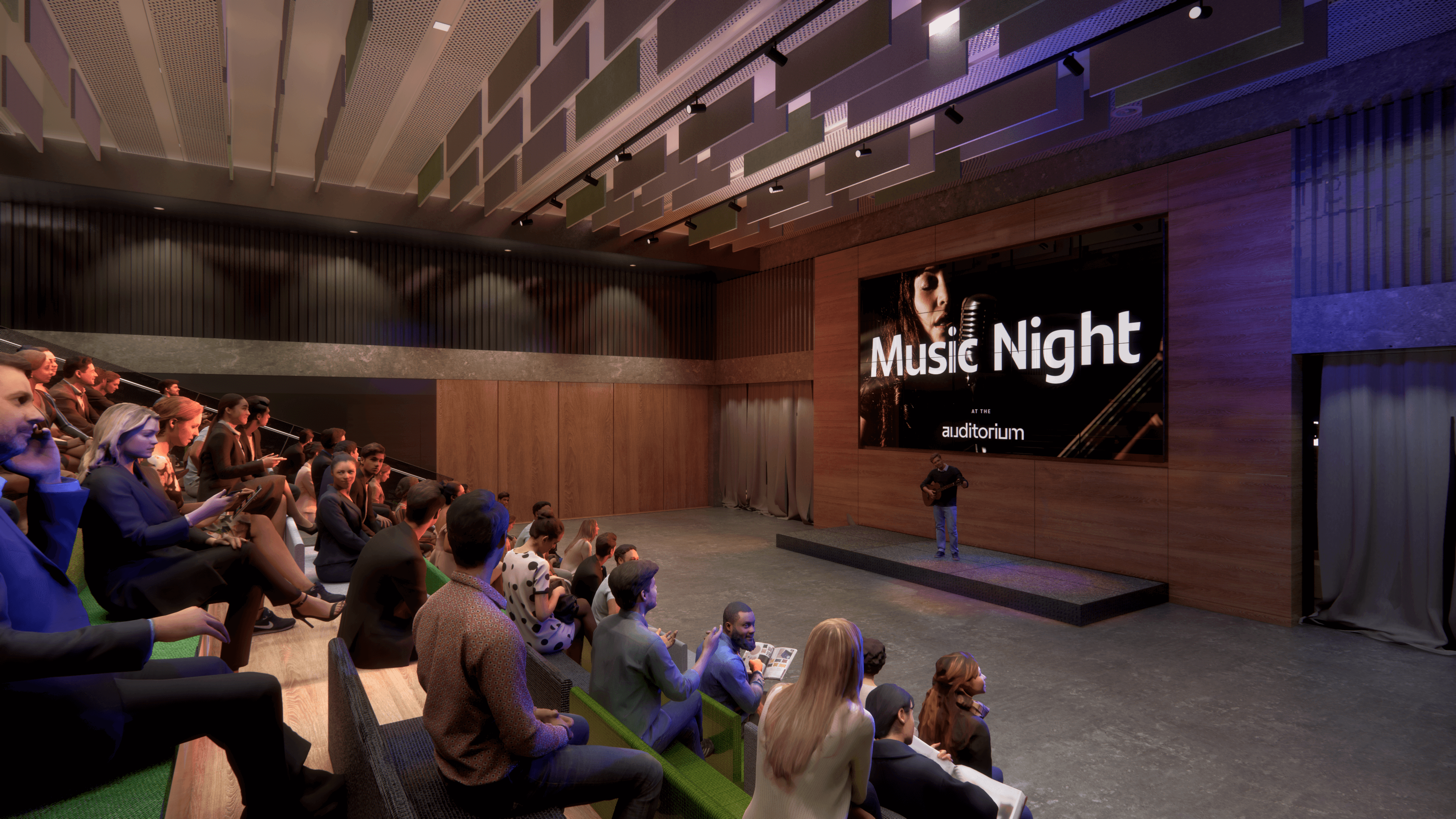 It is not only ideal for large conferences, receptions, banquets, and dinners, but also lends itself to stylish exhibitions and award evenings. Equipped with a 6.5m x 3.5m digital LED screen, Renkus Heinz Sound System, a built-in raised stage, spot and wash lighting, and with bench seating in a theatre style layout to seat up to 300, the Auditorium is an ideal venue for dynamic conferences, awards ceremonies, and industry talks. Fully supported by BT's next generation ultrafast WiFi 6 and other state-of-the-art technology, the breakout and event spaces also work in unison with the main Auditorium to present a light, modern and contemporary event set up that can be adapted to meet the needs of the most creative organisers.
With the intention to make it easier for all visitors to make 'planet-friendly' choices, Unity Place uses best-quality seasonal ingredients sourced responsibly from mostly British suppliers, eliminating unnecessary food miles, and supporting the local economy. Its hospitality menu isn't just about international flavours, classic cuisines, or contemporary options but sustainable food and drink choices that support the health and wellbeing of its guests, and a healthy planet.
"Every partnership at Unity Place is well considered and everything we do here reflects our core values of sustainability, quality, collaboration and community," commented Rhodri Adrian, Account Director (Unity Place), Restaurant Associates. "Lime Venue Portfolio's emphasis around sustainable food choices, local sourcing, and reducing environmental impact aligns with our values. We are proud to become one of LVP's incredible venues, and together, we are taking events to the next level."
"For us, this partnership is more than just boosting the portfolio, widening our options for customers, and continuing to build a formidable group of venues. It's about continuing to work with, and advocate for, venues and events which are sustainable, accessible, ethical, and modern," comments Jo Austin, Sales Director, Lime Venue Portfolio. "Unity Place is an amazing venue space, which sits in front of an inspirational culture. They are exactly what meetings of the future look like. They're a fitting addition to our portfolio."
Unity Place will open in September 2023.