Toast Ale make award-winning craft beer brewed with surplus fresh bread that would otherwise go to waste and are one of the suppliers that Foodbuy are supporting through their #BuySocial initiatives.
At LVP we're keen to spread the word about such social enterprises, particularly those that focus on impacting food waste, plus it's a product stocked across several of our venues such as ExCeL London, Cheltenham Racecourse, Sedgebrook Hall, Ettington Chase, Eastwood Hall, Milton Hill House, Alexandra House, Kents Hil Park, Yarnfield Park, Kettering Conference & Leisure Village and Farnham Castle. So, who better to talk all things Toast than Mikey Rothwell, Breadwinner and Rob Wilson, Chief Toaster at Toast Ale?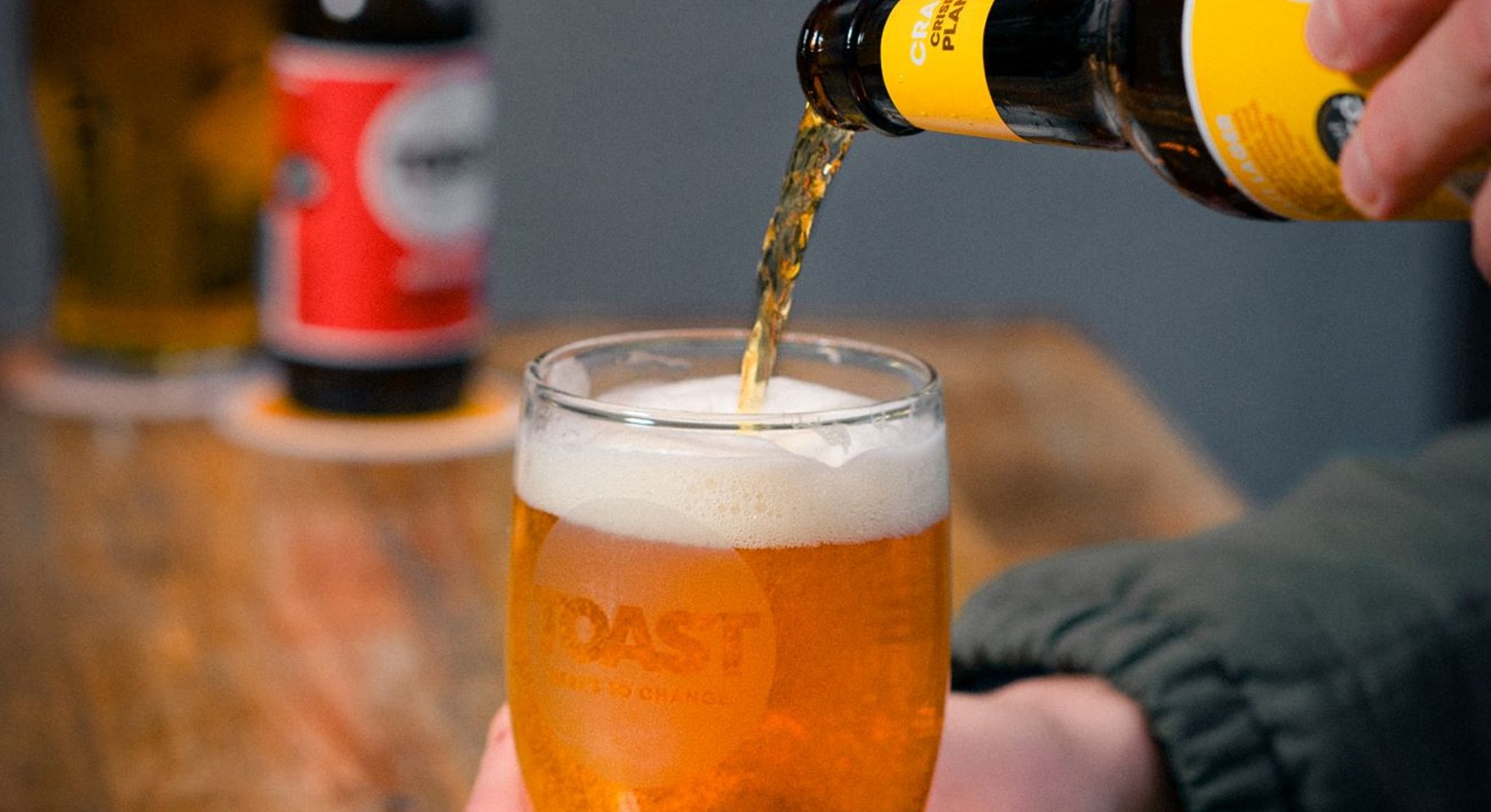 For those who may not know about TOAST, who are TOAST and what do they do?
Toast brews planet-saving beer using surplus fresh bread that would otherwise have gone to waste. All profits go to fixing the food system.
What was the inspiration for TOAST?
Toast was inspired by the oldest ever recipe for beer (6,000 years old!) which included surplus bread amongst its ingredients. In 2015 our founder Tristram Stuart visited Brussels and tried a beer called Babylone that was based on this ancient recipe. He realised that beer could be a delicious pint-sized solution to bread waste.
Tell us about your 'Chief Toaster' and 'Breadwinner' roles?
From Toast's inception bread puns have proved too hard to resist and the team's job titles are no exception. Chief Toaster is our term for CEO - Rob has overall responsibility for the business and its growth. The Breadwinners are our sales team and are in charge of bringing in the dough.
What's the best thing about your jobs?
In our roles we're able to act as activists in engaging people and organisations in conversations around important issues such as food waste and climate change. We've found beer is a great conduit to sparking conversations around these sometimes scary topics!
Why should conference and event venues stock TOAST products?
We think it's a no brainer (not that we're biased!)! Not only is Toast delicious but over the last few years sustainability has risen to be one of the most important things consumers look for in their purchasing decisions. 57% of UK adults say they will buy a brand solely on their ethical position (up 20% in a year!). Drinkers are thirsty for change, our planet-saving beer is a good place to start.
There has been a definite shift towards more environmentally friendly and sustainable approaches to business. How has Compass UK & Ireland and Foodbuy embraced this?
One of the things we love most about working with Compass is the scale of ambition to put sustainability at the heart of the business. Together we will brew 1 million slices of Compass surplus bread that would have otherwise been wasted. These sustainability values are championed from the very top with Dominic Blakemore being extremely positive about Toast, and this has been echoed throughout the business.
What motivates you?
Toast exists to fight food waste. The scale of the problems still to be solved and their contributions to climate change motivate us to keep working hard to do our small part in ending food waste.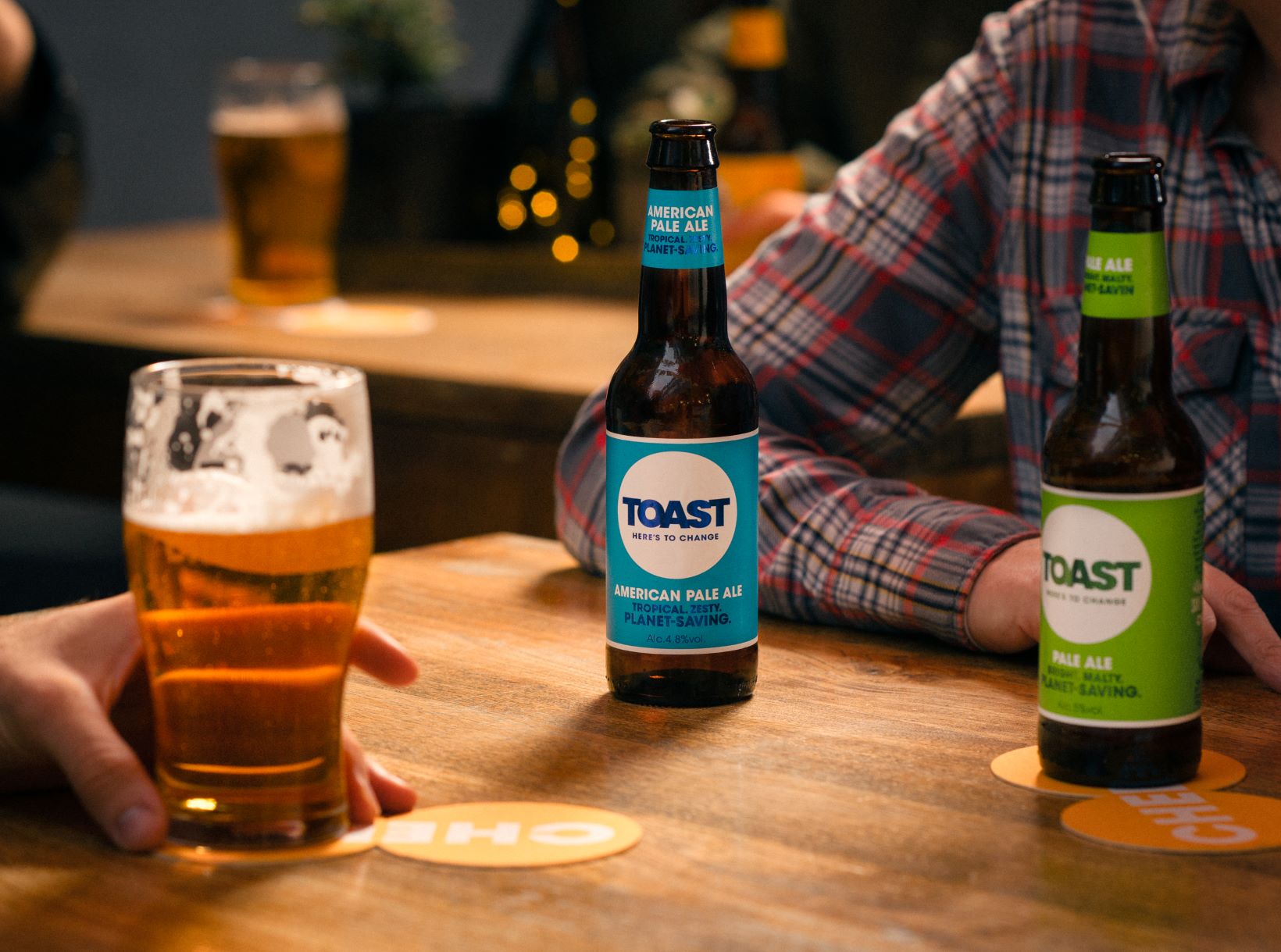 What is the biggest challenge when it comes to supplying TOAST?
The UK craft beer market has boomed over the last 10 years which has been amazing for consumer choice, but also created a lot of competition! With so many amazing beers and breweries out there it has been at times been tough to cut through. Fortunately our great tasting beer and authentic sustainability message has opened up some incredible opportunities for us, not least this partnership with Compass Group.
Best piece of advice you've ever received?
To really double down on your immediate strategic priorities rather than trying to change the whole world all at once! We've had some amazing opportunities come along since we started back in 2016 but they've not always been within our means at the time. We've had to learn to say no and focus on getting the basics done right to grow the business sustainability so we can go after wider impact at a later date.
What's the best way to enjoy a glass of Toast Ale and what's your favourite meal to compliment a glass of the cold stuff?
We think beer is always best enjoyed in a pint glass served between 6-8 degrees. The best food pairing depends on which beer style you're drinking but I'd personally recommend our Session IPA with a spicy curry dish. Bloomin' Lovely!
What does the future look like for TOAST?
Our long term goal is to be a top craft beer brand in the UK and to create systemic change within the brewing industry. We want to prove the concept of brewing using surplus bread and pave the way for the brewing industry to end bread waste in the UK and abroad.
What events/activity have TOAST held themselves in order to raise awareness/funds for the cause?
Toast has been involved in our charity partner Feedback's ongoing Feeding the 5000 event series. We've also hosted a number of parties and a couple of football tournaments in aid of their work too.
You can find out more about TOAST by clicking here.