If you've been to any event before, whether it was a wedding, a gala dinner or a party, there's a good chance it was held in a hotel or more traditional event space. While there's nothing wrong with that - we love hotels for their convenience and comfort - it might be time to try something a little different. Here's 10 unusual private dining venues we know your guests will love.
Private dining is set to become a jewel in the events crown in 2022, with more people starting to appreciate the intimacy and the opportunity for personalisation. Yet the main draw for organisers is sure to be the breadth and variety of venues available to hold their private dining events.
Say goodbye to tucked-away and dimly lit rooms with lacklustre food and limited resources and facilities. We're bringing you 10 of the best unique and unusual private dining venues to surprise and delight your guests.
Whether you're surrounded by snow, squirrel monkeys or steam engines, we can guarantee that stepping away from the norm and going further to impress will help make your event stand out from the crowd.
1. SnowDome Tamworth

Christmas might be over, but that doesn't mean the winter fun needs to stop. At SnowDome, you can work up an appetite for your dinner with a range of activities including skiing, ice skating, climbing and even building snowmen.
Afterwards you can enjoy a delicious dinner made with locally sourced ingredients while enjoying views of the gleaming ski slopes. The private dining venue also boasts a projector and media equipment for work events, and beauty facilities for those in need of relaxation after a lively game of ice hockey.
Having recently undergone a quarter-million pound transformation, the incredible space is perfect for those looking for the fun of an après ski atmosphere for their private dining event.
2. Churchill War Rooms

Dine amongst history in the Churchill War Rooms, hidden beneath the iconic architecture of Westminster. The underground headquarters still look as they did during the Second World War, when Churchill made the momentous decisions that led Britain to victory.
Guests can tour the famous Map Room and Cabinet Room to immerse themselves in the atmosphere of the period, before settling down for an intimate dinner. The venue offers a choice of mouthwatering menus to suit all tastes and requirements, and the food is freshly prepared by a team of excellent chefs.
If you're looking for a private dining venue with unparalleled importance and significance, then look no further than the Churchill War Rooms.
3. Bristol Zoo Gardens

Make your event come alive at the Bristol Zoo Gardens, a conservation and education charity that has helped to save over 175 species from extinction. Home to incredible animals such as Asiatic lions, tree kangaroos and pygmy hippos, the private dining venue offers guests the chance to have private viewings of the animal houses.
Event attendees then have a choice of venues for private dining. The Clifton Pavilion is a gorgeous example of 1920s architecture which boasts a view of the West Lawn and a flock of pink flamingos. The Hide restaurant offers interactive features and realistic animal sounds, as well as delicious cocktails and canapés.
With accommodation in the Safari Lodge to round off a day of animal-spotting, Bristol Zoo Gardens promises a truly wild dining venue.
4. National Railway Museum

One of the grandest and most elegant venues on this list, the National Railway Museum is located in the historic city of York and is the largest museum of its kind in the world. Housing thousands of fascinating objects as well as numerous actual locomotives to explore, the venue also offers some unique dining options.
The Station Hall imitates a stunning period railway station, while the Great Hall allows you to dine beside the record-breaking Mallard steam train. At the height of elegance, there's the Countess of York, a restored vintage railway carriage. Be transported to a time of opulence when you hold your event at the National Railway Museum.
5. Pennethorne's Bar

For an ultra-luxurious private dining experience, discover Pennethorne's Bar, the new addition to iconic London venue Somerset House.The beautifully decorated bar doubles as an artist workspace, with events and exhibitions taking place regularly.
Diners can spark their own creativity with a cocktail-making masterclass in the elegant Drawing Room, before admiring the London cityscape from the spacious terrace. Each dish on the carefully curated menu has been inspired by a location from architect Sir James Pennethorne's Grand Tour of Europe.
Don't pass up the chance to immerse yourself in grandeur at Pennethorne's Bar.
6. Leicester Tigers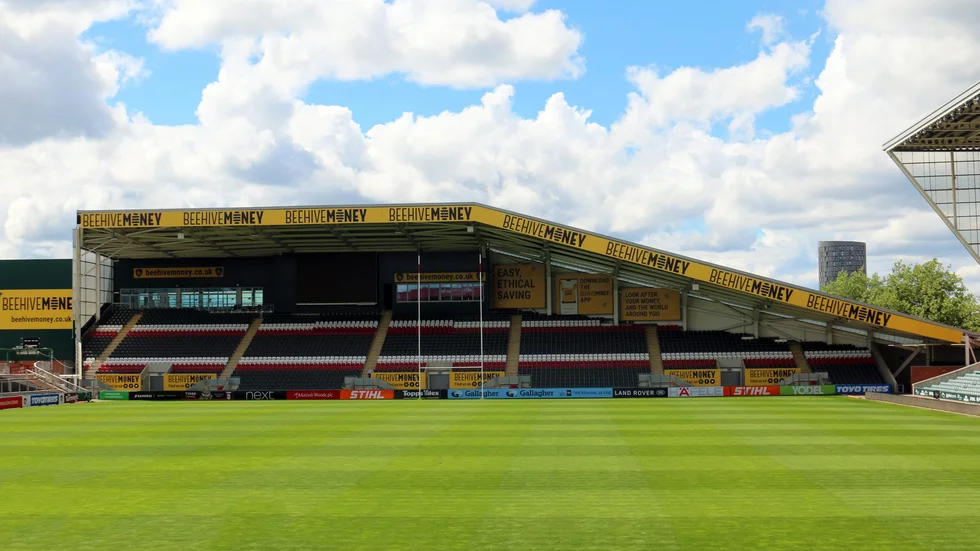 Up the energy levels at your event with a private dinner at one of Rugby Union's most famous stadiums, Welford Road. After a multi-million pound expansion in 2009, the home of Leicester Tigers is now the largest conference and events facility of its kind in the East Midlands.
Guests can enjoy a bespoke menu designed by the Head Chef, and experience 5-star service from the friendly and dedicated team. If you want your dinner to be synonymous with success, this is the venue for you.
7. Roux at Parliament Square

See London as you've never seen it before with a private dining venue experience from Roux at Parliament Square. The brainchild of talented chef Michel Roux Jnr, this contemporary restaurant boasts panoramic views of Westminster, Big Ben and the London Eye from its roof terrace.
Guests can then head into one of the beautifully decorated rooms within the Grade II-listed Royal Institution of Charter Surveyors for an incredible eating experience using the freshest seasonal produce.
8. Royal Armouries

For something completely different, why not opt for a private dining venue experience surrounded by arms and armour from around the world? The Royal Armouries houses an impressive collection of objects for guests to admire, from Henry VIII's armour to a sword from the Ming dynasty.
Brought back by a French missionary from south-west China in about 1920, the collection can be seen in action in the tiltyard, or guests can have a go in the crossbow range before or after sitting down for a well-deserved dinner.
9. City Social Restaurant

Take your dining experience to new heights at City Social, situated within the Tower 42 skyscraper at the heart of London. The Michelin-starred venue boasts ornate art deco interiors and jaw-dropping views across the iconic city skyline.
Diners have the choice of a private dining room for a stylish social meal, or the intimate Chef's Table. Housing a maximum of 10 guests, the Chef's Table offers an unparalleled fine dining experience with a window through to the kitchen where you can watch the chefs at work. City Social offers the ultimate choice in luxury dining.
10. HMS Belfast

As the last surviving Royal Navy World War II cruiser, the awe-inspiring HMS Belfast is a shining example of Britain's rich naval history, and an utterly unique private dining venue. Docked between London Bridge and Tower Bridge and offering spectacular views of London, the ship provides guests the chance to dine in the historic Admiral's Quarters, the elegant Officers' Mess or the relaxed Ship's Company Dining Hall.
For those wanting a truly unforgettable experience, there's a code cracking challenge to get stuck into, followed by a number of paper-based observational challenges to test each team. Finally, guests can get involved in a head-to-head pistol draw competition for the chance to win a cash prize. With quality food and entertainment, HMS Belfast is unmatched for its private dining atmosphere.
Feeling inspired? Take a look at our full list of private dining venues for more unique and unusual event ideas.